SEO Experts Sydney
Purchase a Nifty SEO Seed to Plant and Grow your Online Visibility today
Get Started, our friendly and professional team members are here to provide you with answers to your queries
Looking for a Sydney SEO Expert company that can ensure your business success?
Nifty Marketing Australia is a highly recommended SEO expert agency in Sydney, NSW. Nifty Marketing has custom SEO optimization packages that provide the best ROI. With our Search Engine Optimisation skills we will inevitably turn your Business into a digital marketing machine. The real growth of your business can be expressed in the results, that is exactly what we deliver to you: visible results GUARANTEED!
Our team of affordable Search Engine Optimisation Specialists has the essential experience to understand your business and its core requirements. We are all about making you happy and aiding you with a successful SEO campaign. Your affordable SEO Expert Australia is a full-service digital marketing Sydney company that provides expert marketing services. Contact the SEO Sydney Experts to get your campaign started.
Google is the biggest search engine on the planet. Businesses on the first page of search results access 70% of Google's internet traffic.
When was the last time you went to the second page of Google? and if you have never been there how can you expect your clients to be there looking for you?
As we all know, SEO is the most efficient way of getting clients online. Organic search results done through SEO are more likely to be viewed than paid advertisements.
This means that SEO is a better marketing strategy than other forms of paid advertisements. This is because SEO's marks your audience directly. They do this by utilizing your chosen keyword.
To get clients from SEO, being on the first page is the major thing. Contact us today to start your journey to maximum search engine visibility with a marketing expert.
Why Trust Nifty Marketing Australia?
Nifty Marketing is a thriving team of SEO Experts who are focused on bringing the best to your website. We do not just focus on increasing traffic but also work on increasing your sales and online visibility. Want to work in conjunction with Google Adwords? Well, we can suggest to you the best strategy.
Because, at the end of the day, a businesses' motive to get traffic to a website is to get more conversions. Our team has years of experience when it comes to providing the best search engine optimization services.
Our team consists of the best SEO professionals who have been in the industry for more than 10 years. The strategies we create ensure the overall success of your business.
We partner with the best technologies and tools…
#1 SEO Expert Agency in Sydney
Search engine optimization is the game changer when it comes to driving online traffic. We exist to help your business climb Google first page ladder in order to increase traffic, leads, and visibility. Our updated SEO Sydney strategy is the key to our client's success and we have delivered success in multiple niches working with clients of all sizes.
What makes us the best SEO Agency in Sydney?  Well, our team of SEO specialists are always updated with the industry's best practices. Being on the top of SEO is all about making your website the best for the following keyword.
But!
How can you make a website look good in the eyes of Google? Well, that is where the strategy part comes in. SEO is far more competitive than it used to be several years ago. Two businesses will never have the same strategy when it comes to SEO. However, if we can rank our website on the first page of Google among thousands of agencies practising SEO themselves then imagine yourself- How good is our team of SEO Sydney experts for formulating the best strategy for you?
Being on the web isn't as easy as it may seem. It's really tough getting noticed. Search Engine Optimization techniques used by Sydney's experts follow the highest standards.
If you are here then you might also reach various conflicting documents on the internet about SEO services in Sydney. SEO would have been easy if there was only one business of a kind in your place. However, that is not the case! Every other website on the internet is competing for the first position. This is the fact why SEO is hard.
All you need to know is, search engines like Google used over 200 complex algorithms when deciding which website to rank on the first page. Being an experienced SEO team with a vast dimension of information, we are able to perfectly track what is going to work in terms of increasing your search traffic.
Would you like to learn how we achieved page one ranking on Google for our most important search words and how we can do the same for you? Here are some of the components that helped us hit Google's page one ranking and how we apply the same tactics to each of our clients to help them grow their search engine exposure.
As previously mentioned, SEO is a scalable process that can be used to generate leads for your business. The secret to SEO success is knowing your competitors, determining the most profitable keywords, and determining how we can use data to outperform them. Here are the exact techniques that we use to achieve SEO Sydney success;
On-page SEO (alternatively referred to as on-site SEO) is the process of improving websites in order to boost a website's search engine rankings and generate organic traffic. Along with creating appropriate, high-quality content, on-page SEO entails optimizing the headlines, HTML tags (title, meta, and header), and photographs. Additionally, it entails ensuring that the website demonstrates a high degree of competence, authority, and trustworthiness.
Off-page SEO includes all activities conducted outside of your website that contribute to your SERP status improvement: link building, forum participation, influencer outreach, and content promotion, to name a few. Off-page SEO, in layman's words, enables search engines to consider what other people think of your goods, services, or website.
When optimized properly, the business's Google My Business (GMB) listing can be a highly effective marketing tool. As clients do hyperlocal searches, the first thing they find in their search results is local map listings.
SEO Result that speaks…..
Check out the SEO results, achievements, and progress achieved by real businesses like you.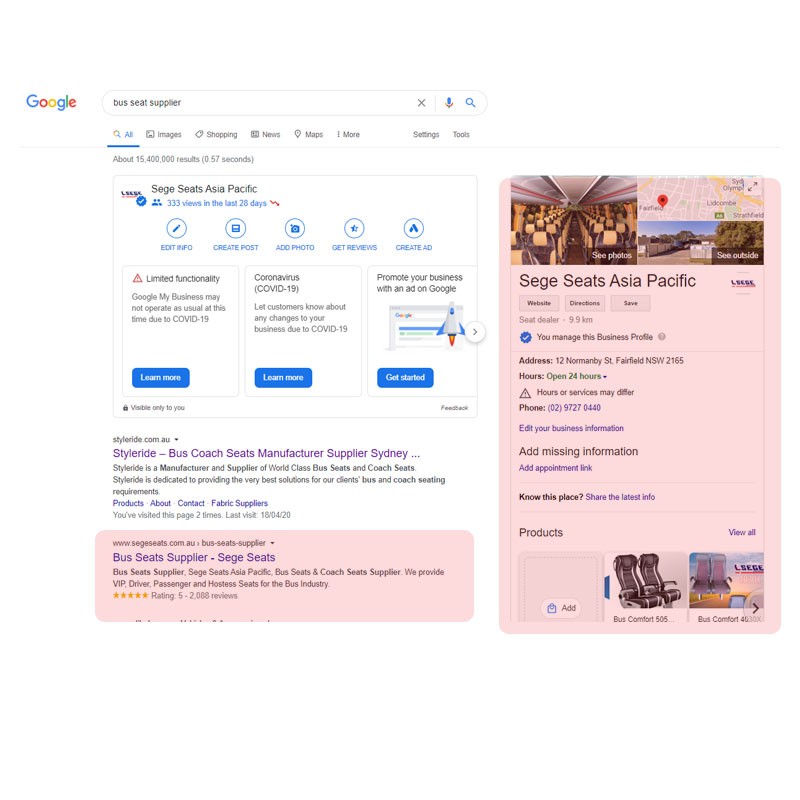 A well executed branding campaign
" With Nifty our company has been doing the branding of the future. They are equipped with all the technologies, media, and tool that helped us grow our overall branding and achieve big results in search results. After having a look at the thriving positions for my website in multiple countries, I must say It was a very well-executed SEO campaign " – Sege Seats
Does SEO takes time?
" After running two years of SEO campaigns with a local company all we have heard is SEO takes time. Coming into 2021, our experience with Nifty Marketing Australia has been so good that I can proudly say Does SEO takes time?. It takes time as well as the right expertise, experience, level of understanding, and that motive to help businesses that you are giving services to. Not all company promising grand results has that! " – Ultra Tree Services
Nifty Marketing has been the best thing for my business from the first day. Without Nifty Marketing, my business would have never started. Thank you Derek for all your services, I cannot thank you enough.I would highly recommend anyone that is interested in growing their business to use Nifty Marketing and their services. If you are looking to grow your business, Derek from Nifty Marketing is the go-to-person in relation to growing your Google SEO marketing and Google Ad-words management.Thank you so much Derek for helping me grow my business!!

Jacob Bozdas
12:46 23 Feb 21
Nifty Marketing have picked up my website from zero and have fully enabled my website to give my clients an end to end experience from browsing, shopping to booking! We love our website and have had such great support for all of our Design requests, technical queries and capability enablement process! Thank you to the Nifty team, for bringing my vision to life!Dee TufekciCreative DirectorHazel Events & Prop Hire

Dee Tufekci
04:46 15 Jan 21
Been using the company Nifty Marketing Australia for all my SEO, Digital Marketing and Website builds for over 3 years. Couldn't be happier for the support and services they have provided and the fact rhye built up our business to a massive scale. What a great Team, thank You Derek !

Oscar Akin
00:50 17 Oct 20
Best Web Developers. Nifty Marketing Australia definitely is transparent and magical with their talent. I'd rank them to be the best. Price vs performance are amazing. Will not waste my time with overseas freelancers again, Nifty marketing has made online marketing affordable locally.

sameer rasheed
12:42 17 Jul 20
I advice this digital marketing company to all business. They are very understanding and they work fast and solve problems quickly. Competent Staff. Thanks nifty...

Bill Sydney
09:29 23 Jun 20
Gozleme Co. Lidcombe would like to thank Nifty Marketing for all the work in regards to Google My Business, Signage and social media. Great results great team. Thanks for being with us and the continual effort.

muruvet altundag
09:27 23 Jun 20
I have been using Nifty Marketing to advertise my business. I highly recommend their service. They have helped my business grow

Ahmad Bahwach
07:03 25 Apr 20
Thank you to Derek for his amazing work and professionalism. Would recommend Nifty Marketing to anyone, who is looking at having a website created or having their current site uplifted.

Hilal Temucin
06:48 25 Apr 20
My wife needed some help with her website and Nifty made it happen. Easy to find us now and we appreciate that a lot. Thank you!

R. Mensink
05:09 25 Apr 20
I am having a really good experience with Nifty Marketing. Darek and the team are forward thinking and consistently hit the mark when it comes to results. This extends across our Facebook marketing, email marketing and general digital strategy. We look forward to many more years to come with our partnership. Well done guys!

rasheed investments
03:00 25 Apr 20
Have worked with Derek @ Nifty Marketing on many occasions and I can strongly recommended him and his company's services. Derek is understanding, compassionate, patient, very professional, and gives 110% for every project he takes on. Very happy to continue working with this exceptional person who has a big heart and a sharp wit to what he does everyday. Also, he is a bit of night owl like me, powering through projects into the early morning! Thanks Derek and the team! 🙂

Myles Sutton
01:41 25 Apr 20
The team at Nifty are professionals in their industry. They helped with building our website and delivering great results of customer enquiries through their digital marketing strategies. Highly recommend Nifty if you want to take your business to the next level.

Umit Tony Tarhan
01:34 25 Apr 20
Very professional, highly proficient and a pleasure to work with. We highly recommend these guys for all your website design and maintenance needs.

Inspire Arts
01:25 25 Apr 20
The service was fast insightful and educational. Exactly what I needed to give my business the exposure. Love your work

Sevi Kokten
00:56 25 Apr 20
The best in the city of Sydney. Tarik is a professional in digital marketing. He and his team have lifted my position in the market to another level by providing quality service. Highly recommended!

Fuat Mert Eceoglu
23:42 24 Apr 20
I had a very productive and insightful session with the team who provided key knowledge for how to utilise social media to drive customer acquisition and further company growth. Thank you.

Alexander Ethan
05:37 31 Aug 19
We have been working with the team at Nifty Marketing for not quite twelve months, and have seen a massive improvement with our business. Our building business has doubled in that time, and keeps improving. Fantastic team of people to work with, we are very happy.

Bridget Rose
04:17 31 Aug 19
Elite SEO and Web Services. Nifty Marketing is our Marketing Arm since 2017 and has vast experience in getting leads to us. Their creative team is fantastic and Derek has proven himself over and over again.

PRO IT CLOUD GMAIL
15:01 25 Aug 19
Nifty Marketing Australia are SEO geniuses. Love their work. All my keywords are on the 1st Page of Google within a few days.Highly recommended A++++++

Return on investment SEO
Check out what our Customer says within one of the toughest online visibility industries 'Plumbing' Industry
Ready To Plant Your Seed & Grow
Our SEO strategies are built on a return on investment model to ensure you have a healthy growing business
If you think of the SEO strategy as a road map then the SEO retainer is where we start to actually drive.
Like all road trips, despite the Best laid plans you sometimes have to reassess
your route and make adjustments. Businesses spend as much as $100 dollar per lead, whether or not the lead is qualified. Sometimes the cost goes up as much as a thousand dollars per qualified customer.
Meanwhile, the advantage of having an SEO  optimization campaign running means that it doesn't cost you per click or per lead. Hence, SEO is "free". SEO is a win-win situation in the long run with SEO packages Sydney.
It is far less pricey than advertising to acquire customers. The only costs in SEO are the costs to hire the best SEO company. Unless you have experience in website coding and Google algorithms, you will need an SEO firm or agency to grow your rankings and reap the benefits of SEO.
You do not have to advertise if you have sturdy SEO standings. You can increment your website traffic without having to pay per click. An productive SEO strategy can help you scale back your advertising dollars, and invest it in more efficient areas.
Search Engine Optimisation increases sales and leads due to the increase in brand and service awareness. With a great SEO strategy your business with rocket it's way into higher conversions.
The cost of SEO in Sydney can be really dramatic. You can even find an SEO company for a hundred bucks these days. The loophole in this system is; SEO requires time and any agency can hold you for a few months sending you misleading reports and ensuring you that your website is about to take off.
SEO is a very vast field and professionals require a big amount of overall knowledge in order to create a successful campaign. Think yourself; the more you invest in your website, the more results you are going to see in the near future.
What is Cheap SEO?
There is no such thing as cheap SEO. Search Engine optimization has the potential to bring millions of dollars of business to your doorsteps. Why would anyone work for hours building your business for a piece of cake? But, Negative SEO exists!
Hanging on with a cheap SEO service that is showing no signs of growth can be close to getting a Google Penalty. Once, you are penalized, it is nearly impossible to revive your website back in search results.
Meanwhile, if you invest in an affordable SEO package, you can be benefited in many ways: cost-wise and value-wise. At Nifty, we have grown new businesses from zero to being top in their industries.
Most of our SEO campaigns last for a few months, after that clients reach the stage where they can no longer cope up with leads. Business with 100% online visibility is Nifty's primary goal for any SEO client.
If you are searching for "10 Best Computers Online" then you are more likely to buy a computer anytime soon. Our team carefully analyzes the customer's journey and creates processes that work best for getting the sales.
In order to find out if your business needs SEO, you need to ask yourself a question. Are your customers looking for businesses like you online? If the answer is YES! then your business can be a lot profitable with SEO. Industries that need SEO the most are usually the most competitive ones.
Our SEO strategies consist of various factors such as; link building, content creation, press release, on-page optimization, infographics submission, google my business optimization, local citation, and more. We carefully analyze what are the missing elements that are dragging your website from ranking top in the results and join the missing pieces.
SEO is the best source of marketing when it comes to creating a brand and getting maximum leads. Contact the best SEO company in Australia or New Zealand today to get started.
Advertising is costly. In 2018, ads accounted for 84 percent of Google's sales. Many of the advertisements that appear in the middle of posts and among the organic SEO results are from Google Ads.
The sad part is that Google Advertising (AdWords) is becoming more and more costly for businesses. SEO is essential if you want to reduce your reliance on paid ads and develop a long-term and reliable revenue source for your company.
To be viewed by future users, the website and page content strategies must be optimized for both Google and guests. SEO is a delicate juggling act; the website must cater to Google while still providing a positive user experience.
The most critical concept to understand about SEO is that it is constantly evolving. Nothing ever returns to its original location, and as a result, you must constantly track your quest presence in order to outrank and outperform your competition. As a dedicated SEO agency in Sydney, it is our responsibility to stay current on the recent search algorithm updates and how they impact the way content is rated on Google.
In 2017, Moz published a report stating that on-page keyword use was the most significant on-site ranking element in deciding where the website will appear in search results. That ensures that doing proper keyword analysis and incorporating it into related landing pages can have a noticeable effect on how the website appears in search results. Understanding keyword patterns, keyword complexity ratings, keyword aim, and competitor keyword use all contribute to the holistic and sustainable delivery of a Sydney SEO service. When you partner with Safari Digital, you'll be collaborating with a team of professionals who understand how to leverage content to achieve your market objectives.