SEO Experts
Purchase a Nifty SEO Seed to Plant and Grow your Online Visibility today
Get Started, our friendly and professional team members are here to provide you with answers to your queries
Looking for an SEO Expert in Sydney that can ensure your business success?
Nifty Marketing Australia is a highly recommended SEO expert in Sydney, NSW. Nifty Marketing has custom SEO optimization packages that provide the best ROI.
With our Search Engine Optimisation skills we will inevitably turn your Business into a digital marketing machine.
The real growth of your business can be expressed in the results, that is exactly what we deliver to you: visible results GUARANTEED!
Our team of affordable Search Engine Optimisation Specialists has the essential experience to understand your business and its core requirements. We are all about making you happy and aiding you with a successful SEO campaign.
Your affordable SEO Expert Australia is a full-service digital marketing Sydney company that provides expert SEO services. Not only in Australia, Nifty marketing also provides International Seo Services.
Contact the SEO Sydney Experts to get your campaign started. Here are some of the technologies and tools we use;
SEO Results that speaks...
Check out what our Customer says within one of the toughest online visibility industries 'Plumbing' Industry.
Ready To Plant Your Seed & Grow
Our SEO strategies are built on a return on investment model to ensure you have a healthy growing business
SEO Services that you can trust
Google is the biggest search engine on the planet. Businesses on the first page of search results access 70% of Google's internet traffic.
When was the last time you went to the second page of Google? and if you have never been there how can you expect your clients to be there looking for you?
As we all know, SEO is the most efficient way of getting clients online. Organic search results done through SEO are more likely to be viewed than paid advertisements.
This means that SEO is a better marketing strategy than other forms of paid advertisements. This is because SEO's marks your audience directly. They do this by utilizing your chosen keyword.
To get clients from SEO, being on the first page is the major thing. Contact us today to start your journey to maximum search engine visibility with a marketing expert.
Looking for an SEO Agency in Sydney?
We are an SEO agency that focuses on achieving results that help your business grow. In our SEO services in Sydney, we aim to generate new leads, increase sales, bring in new customers, and assist your business in growing. We know how difficult it is to run a successful business, which is why we guarantee a certain level of success. The SEO experts at Nifty Seo Agency will develop and implement a custom plan for local Australian search engine optimization, campaign management, and web presence marketing that will be tailored to your company's needs, all within a fully managed fixed price package. We've been around for a while, we're dependable, we're SEO experts. we're Sydney's most trusted SEO agency, and we're here to help Australian businesses like yours succeed online.
#1 SEO Agency Sydney
Nifty Marketing is a thriving team of SEO Experts in Sydney who are focused on bringing the best to your website. We do not just focus on increasing traffic but also work on increasing your sales and online visibility. Want to work in conjunction with Google Adwords? Well, we can suggest to you the best strategy.
Because, at the end of the day, a businesses' motive to get traffic to a website is to get more conversions. Our team has years of experience when it comes to providing the best search engine optimization services.
Our team consists of the best SEO professionals who have been in the industry for more than 10 years. The strategies we create ensure the overall success of your business.
Nifty Marketing Professional SEO Services 
Our SEO Services in Sydney are leading the industry. We have proven it, Over and Over again!!!
Results and Relationships
The results and relationships are the two fundamental values. Our cornerstone is that we are present for every client that works with us. We have SEO specialists in Sydney specialising in assisting businesses of all sizes to achieve exponential development, be it the new businesses or nationwide franchises. Our search engine optimisation business believes in controlling our customer's voices, and we work hard to demonstrate this every day.
Experience Counts
Being the best SEO agency in Sydney, Nifty Marketing has been helping companies of all sizes and sectors improve their online presence and generate more income for many years. We have the knowledge, backed up by customer success stories, to assist companies of any size, boost their web traffic and lead generation. We can affirm this by telling you that many of our SEO consultants have been industry leaders in the past few years. We all step in together if someone has a problem.
Committed SEO Experts
We believe that it is our responsibility to make a complex, sophisticated, and stressful search engine optimization process as simple as possible for our clients. One of the numerous ways we do this is by assigning each customer a single point of contact for project management. You'll get to know your Nifty Marketing SEO experts, and they'll get to know your company and understand your specific requirements.
Honesty and Integrity
Honesty is the best policy! We are a reliable and the best SEO company in Sydney that believes in truth and integrity. We consistently play by the rules, employing white hat SEOs to get the job done without spamming or manipulating the system that could result in Google fines. Simply stated, we don't need to compromise to succeed in SEO. As a Google Premier Partner, we follow the regulations and will never put your business at risk.
Getting Better With Time
Just like the SEO, we also are never stagnant. As several Google algorithm modifications occur every year that affect ranking criteria, SEO is also continually evolving to stay on top of the current trends and news. To maintain your position ahead of the curve, our SEO marketing company in Sydney is always discovering new strategies and remaining updated.
Clear Reporting
Unlike our counterparts, we are completely transparent with our clients, allowing you to witness firsthand how our consistent efforts are growing your online revenue. Our personalised and comprehensive monitoring will include access to an online client portal, the Google Analytics report. It provides a complete view of the SEO performance of your website. We also regularly update you on the keyword rankings, a monthly breakdown of the SEO tasks we've completed, and a monthly video synopsis that reviews the SEO advancements and strategy.
#1 SEO Expert Agency in Sydney
Search engine optimization is the game changer when it comes to driving online traffic. We exist to help your business climb Google first page ladder in order to increase traffic, leads, and visibility.
Our updated SEO Sydney strategy is the key to our client's success and we have delivered success in multiple niches working with clients of all sizes.
What makes us the best SEO Agency in Sydney?  Well, our team of SEO specialists is always updated with the industry's best practices. Being on the top of SEO is all about making your website the best for the following keyword.
But!
How can you make a website look good in the eyes of Google? Well, that is where the strategy part comes in. SEO is far more competitive than it used to be several years ago. Two businesses will never have the same strategy when it comes to SEO.
However, if we can rank our website on the first page of Google among thousands of agencies practicing SEO themselves then imagine yourself- How good is our team of SEO Sydney experts for formulating the best strategy for you?
Being on the web isn't as easy as it may seem. It's really tough getting noticed. Search Engine Optimization techniques used by Sydney's experts follow the highest standards.
If you are here then you might also reach various conflicting documents on the internet about SEO services in Sydney. SEO would have been easy if there was only one business of a kind in your place.
However, that is not the case! Every other website on the internet is competing for the first position. This is the fact why SEO is hard.
All you need to know is, search engines like Google used over 200 complex algorithms when deciding which website to rank on the first page.
Being an experienced SEO team with a vast dimension of information, we are able to perfectly track what is going to work in terms of increasing your search traffic.
Our Planned Methodology Towards Online Success
Website Audit
A website audit is a thorough examination of all the elements that influence your website's visibility online. It will assist us in identifying and formulating a plan to address the problems.
Competitor Analysis
Our SEO experts in Sydney will identify and assess your main competitor's strategies. It will allow us to quickly see where you are falling behind and concentrate on these areas to improve your ranking.
Keyword Research
To find the right keywords to rank for, our SEO consultants conduct extensive keyword research. This is to determine the most popular keywords people look for in your sector.
SEO Content Creation
Whenever it comes to increasing your rankings, content is key. We develop content that is consistent, dependable, relevant, and entertaining, as well as appropriate for your brand. We also optimize your current content to make it more relevant and help you rank higher.
SEO Execution
Being the best SEO agency, our specialists use the most up-to-date on-page and off-page techniques to boost website traffic and help you get a higher search engine ranking.
Track Traffic and Rankings
We evaluate every keyword, issue, and ranking since SEO performance must be closely monitored. This will help us figure out what isn't functioning and how to solve it.
Pledge To Serve the Best
At Nifty Marketing Australia, we pledge to be honest and hold ourselves accountable. Not all SEO companies follow the same code of ethics, and their clients often suffer the price. We continually aim to achieve higher keyword rankings, more significant traffic, conversions, and positive ROI for the website of our clients. We will help you appear impressive in front of your clients by working behind the scenes. You're the one who gets all the credit!!
Our SEO professionals will make sure that all the parts of SEO are in place and working accurately. All of our B2B packages are designed to relieve any agency's SEO burden. We are pleased to take care of your consumers while working under your brand.
Would you like to learn how we achieved page one ranking on Google for our most important search words and how we can do the same for you?
Here are some of the components that helped us hit Google's page one ranking and how we apply the same tactics to each of our clients to help them grow their search engine exposure.
As previously mentioned, SEO is a scalable process that can be used to generate leads for your business. The secret to SEO success is knowing your competitors, determining the most profitable keywords, and determining how we can use data to outperform them. Here are the exact techniques that we use to achieve SEO Sydney success;
On-page SEO involves optimizing parts of your website and its pages in order to improve your organic search rankings. Simply put, on-site SEO involves optimizing various components of your website so that search engines can easily read and interpret them. Optimizing your website for organic search is the first step toward increasing your presence in organic search. Prior to looking at off-page factors that can boost your rank, our SEO professionals will ensure you've put the groundwork in place with good on-page practices.
Onpage SEO Consist of the Following steps:
Optimising your webpage titles




In order to succeed in your website's SEO strategy, you'll need to name your pages in a way that clearly explains what visitors will find on that page. The titles of your web pages are the first thing that search engine robots will notice when they scan your website. Having them on a page serves as a strong indication of what will appear on the rest of it. For instance, if your content is about Chinese food, but your page title contains no reference to Chinese food, you will be judged irrelevant, resulting in a drop in your rating.






Meta Descriptions




Using a meta description (also called a meta description tag) allows you to summarise the content of a website. You can expect consumers and search engines to find information about your website in this short description. As popular opinion suggests, meta descriptions do not affect your website's ranking. Meta descriptions are not used in

Google's ranking system

, according to their statement from 2009. The number of people clicking on your website from search results can be significantly affected, however. In the meta description, you should succinctly explain the content of your web page. By 2021, Google will replace meta descriptions roughly 70% of the time if other content on the page is deemed more relevant than what is provided in the meta description.

Web page content




The content on a site has a significant impact on its rankings, so we don't need to emphasize that. Your website's content should be valuable for your visitors. On-page content optimization includes these basic points, according to

Ahrefs.

         
Using bullets will help skimmers.

Describe your hierarchy using descriptive subheadings (H2-H6).

Put some visuals between the paragraphs.

Make your language clear and understandable.

Rather than "walls of text," keep sentences concise and use short paragraphs.

If you want readers to avoid eye strain, choose a larger font.

Writing as you speak makes conversation more fun and enjoyable.
 You can rely on our SEO Sydney experts to make the most of the content you produce. Our content strategy will allow your company to use it across several pages of your website without being penalised (or losing ranking potential) due to duplicate content issues. Content for your website We work together with you to develop an on-page SEO strategy that will help you grow your business for years to come.
 4.Internal Linking
Links that connect the pages of your website are crucial to helping search engine bots understand your content. Internal linking is a great way to construct a hierarchy for your website so that Google can figure out the most important parts of your site. Internal linking facilitates the user experience by letting visitors freely move between key pages on your site. In the near future, we'll build an internal link structure that will keep your most important content at the top of the free SEO rankings. Our goal is to prevent interference or conflict arising from an untidy or unclear connection structure. The user should be able to navigate quickly from page 1 to any other page on your site with just a single click. Think of your website as a book and it can be easily possible by internal links.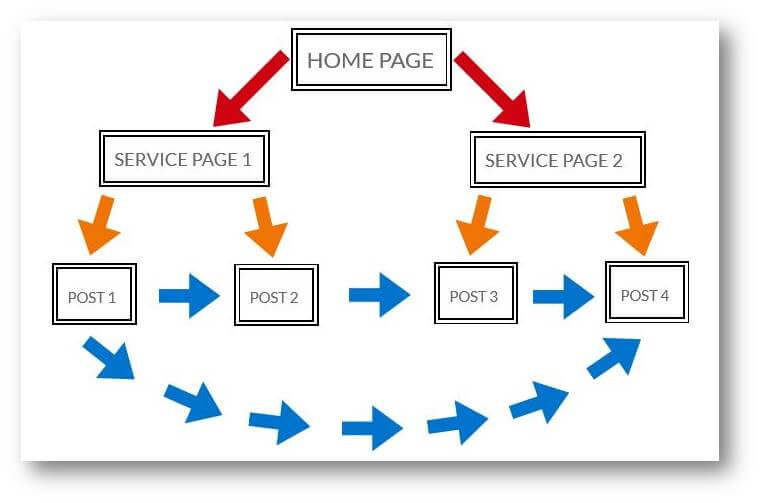 Technical SEO
Technical SEO variables influence how your website appears in search engine results pages in a variety of ways. An effective campaign requires identifying, resolving, and correcting any on-site technological issues. The following are some of the technical SEO variables that we handle with each website:
Crawl error identification and solving the error.

HTTPS STATUS CODE: If you are still using the HTTP status code then you will get 4xx and 5xx HTTP status codes instead of content so switch to HTTPS asap.

XML Sitemap: It works as a map of your website for search engine crawlers

Website load time: 2021 recent google update is all about your website performance and speed, you shouldn't be laid back on it.

Mobile user friendly: Make sure your site is completely responsive on mobile devices of any screen size.

Check for keyword cannibalization: No targeting 2 pages with one single keyword make sure of it.

Robots.txt: always audit your robots.txt file to check if your site has been indexed or not.

Perform site search: to check how well are you performing in google

Check duplicate metadata: the major problem with bigger websites – websites with 50,60 pages is similar metadata or description and it can cause trouble for your website ranking.

 Title and meta length: Always make sure you fit it under 160 tom 320 for meta and 50-65 for the title.

Duplicate content: Always check for duplicate content.

Broken links: any changes on permalinks and URL and if you don't update or redirect it, it may cause this problem and can affect your rankings.





6. Local Business SEO



Local search engine optimization is similar to our standard SEO strategy, but with the added goal of making your business visible to local customers. You do not need a physical location to reap the benefits of a Local SEO Sydney. By mentioning your city and the names of your service area in your text, you can significantly improve the quality of your online traffic. There are several chances for small and medium businesses to outrank their more established (and larger) competitors for highly profitable search phrases when it comes to local search because it is one of the least used aspects of SEO. Google searches that emphasize location will make up more than 80% of searches by 2020. Local search engine traffic is some of the most lucrative on Google. You're missing out if you don't target your local audience.
What is Off-Page SEO?
The term "off-page SEO" refers to all of the activities you and others conduct away from your website in order to improve a page's search engine ranking. Many people equate off-page SEO with link development, but it encompasses much more. Off-page optimization includes a variety of operations that do not result in a normal link on other websites. On-page SEO takes place within the site, and off-page SEO takes place outside the site. You're doing off-page site promotion if you make a guest post for another blog or leave a remark.
Semrush off-page strategy includes these major factors :
Link Building

Brand Building

Content Marketing

PR

Local SEO (GMB and Citations)

Social Media

Forums

Influencer Marketing

Events

Guest Posting

Podcasts

Reviews

Content Syndication

The below image can show us the differences between on-page and off-page SEO

Today's businesses require targeted Google visibility.
Most businesses are aware that this necessitates optimising their website and Google Ads, but few are aware that a third entity, their Google business listing, also necessitates optimisation. This powerful listing, formally known as your Firm Profile, is a dynamic picture of your business that showcases your greatest qualities and allows potential customers to find, learn about, and engage with you right from the SERP.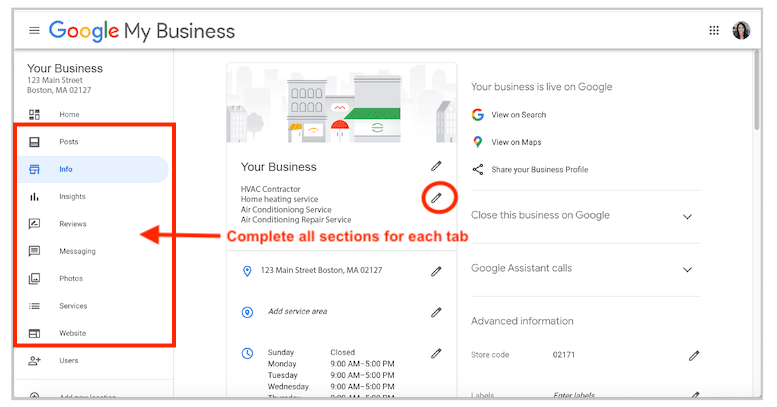 13 points to optimise your google my business
Claim your Business Profile
Complete every section of your Google My Business account
Be meticulous with contact information
Select primary and secondary categories
Mark off applicable attributes
Write a complete "from the business" description
Publish Google posts weekly
Upload new photos weekly
Answer questions
Collect and respond to reviews
Add your products and/or services
Set up messaging
Maintain your Business ProfileWith these optimizations, you can turn your Business Profile into the best free customer acquisition tool you didn't know you had.
SEO Sydney Services Testimonials
Check out the SEO results, achievements, and progress achieved by real businesses like you.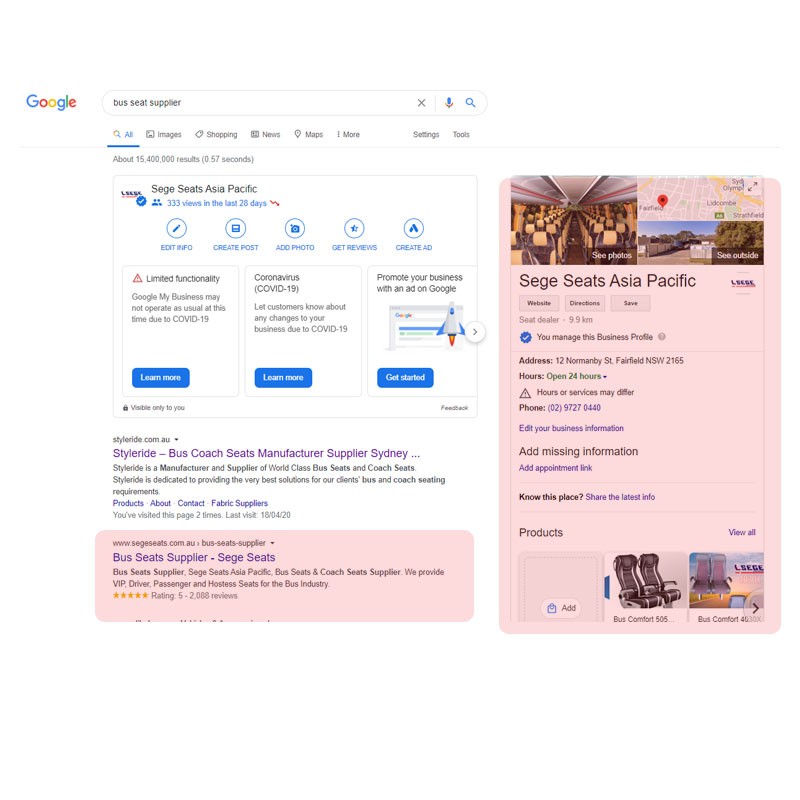 A well executed branding campaign
" With Nifty our company has been doing the branding of the future. They are equipped with all the technologies, media, and tool that helped us grow our overall branding and achieve big results in search results. After having a look at the thriving positions for my website in multiple countries, I must say It was a very well-executed SEO campaign " – Sege Seats
Does SEO takes time?
" After running two years of SEO campaigns with a local company all we have heard is SEO takes time. Coming into 2021, our experience with Nifty Marketing Australia has been so good that I can proudly say Does SEO takes time?. It takes time as well as the right expertise, experience, level of understanding, and that motive to help businesses that you are giving services to. Not all company promising grand results has that! " – Ultra Tree Services
If you think of the SEO strategy as a road map then the SEO retainer is where we start to actually drive.
Like all road trips, despite the Best laid plans you sometimes have to reassess
your route and make adjustments. Businesses spend as much as $100 dollar per lead, whether or not the lead is qualified. Sometimes the cost goes up as much as a thousand dollars per qualified customer.
Meanwhile, the advantage of having an SEO  optimization campaign running means that it doesn't cost you per click or per lead. Hence, SEO is "free". SEO is a win-win situation in the long run with SEO packages Sydney.
It is far less pricey than advertising to acquire customers. The only costs in SEO are the costs to hire the best SEO company. Unless you have experience in website coding and Google algorithms, you will need an SEO firm or agency to grow your rankings and reap the benefits of SEO.
You do not have to advertise if you have sturdy SEO standings. You can increment your website traffic without having to pay per click. An productive SEO strategy can help you scale back your advertising dollars, and invest it in more efficient areas.
Search Engine Optimisation increases sales and leads due to the increase in brand and service awareness. With a great SEO strategy your business with rocket it's way into higher conversions.
The cost of SEO in Sydney can be really dramatic. You can even find an SEO company for a hundred bucks these days. The loophole in this system is; SEO requires time and any agency can hold you for a few months sending you misleading reports and ensuring you that your website is about to take off.
SEO is a very vast field and professionals require a big amount of overall knowledge in order to create a successful campaign. Think yourself; the more you invest in your website, the more results you are going to see in the near future.
What is Cheap SEO?
There is no such thing as cheap SEO. Search Engine optimization has the potential to bring millions of dollars of business to your doorsteps. Why would anyone work for hours building your business for a piece of cake? But, Negative SEO exists!
Hanging on with a cheap SEO service that is showing no signs of growth can be close to getting a Google Penalty. Once, you are penalized, it is nearly impossible to revive your website back in search results.
Meanwhile, if you invest in an affordable SEO package, you can be benefited in many ways: cost-wise and value-wise. At Nifty, we have grown new businesses from zero to being top in their industries.
Most of our SEO campaigns last for a few months, after that clients reach the stage where they can no longer cope up with leads. Business with 100% online visibility is Nifty's primary goal for any SEO client.
If you are searching for "10 Best Computers Online" then you are more likely to buy a computer anytime soon. Our team carefully analyzes the customer's journey and creates processes that work best for getting the sales.
In order to find out if your business needs SEO, you need to ask yourself a question. Are your customers looking for businesses like you online? If the answer is YES! then your business can be a lot profitable with SEO. Industries that need SEO the most are usually the most competitive ones.
Our SEO strategies consist of various factors such as; link building, content creation, press release, on-page optimization, infographics submission, google my business optimization, local citation, and more. We carefully analyze what are the missing elements that are dragging your website from ranking top in the results and join the missing pieces.
SEO is the best source of marketing when it comes to creating a brand and getting maximum leads. Contact the best SEO company in Australia or New Zealand today to get started.
Advertising is costly. In 2018, ads accounted for 84 percent of Google's sales. Many of the advertisements that appear in the middle of posts and among the organic SEO results are from Google Ads.
The sad part is that Google Advertising (AdWords) is becoming more and more costly for businesses. SEO is essential if you want to reduce your reliance on paid ads and develop a long-term and reliable revenue source for your company.
To be viewed by future users, the website and page content strategies must be optimized for both Google and guests. SEO is a delicate juggling act; the website must cater to Google while still providing a positive user experience.
The most critical concept to understand about SEO is that it is constantly evolving. Nothing ever returns to its original location, and as a result, you must constantly track your quest presence in order to outrank and outperform your competition. As a dedicated SEO agency in Sydney, it is our responsibility to stay current on the recent search algorithm updates and how they impact the way content is rated on Google.
In 2017, Moz published a report stating that on-page keyword use was the most significant on-site ranking element in deciding where the website will appear in search results. That ensures that doing proper keyword analysis and incorporating it into related landing pages can have a noticeable effect on how the website appears in search results. Understanding keyword patterns, keyword complexity ratings, keyword aim, and competitor keyword use all contribute to the holistic and sustainable delivery of a Sydney SEO service. When you partner with Safari Digital, you'll be collaborating with a team of professionals who understand how to leverage content to achieve your market objectives.
Because your business is not coming up on Google's first page.
 For the things, you search in google, either it is information, products/services, or you wish to buy something, chances are you will be choosing anyone from the top 3 results. Perhaps, brands listed on the first page of Google you might scroll not even going to the 2nd page you make your decision. And that's where Sydney SEO services make a difference.
SEO services are all about making sure that your business shows the top results. 
     

Increase brand visibility

     

Target the right demographics

     

Increase your website traffic

     

Offer better user experience

     

Build trust and credibility

     

Achieve higher conversions

     

Get qualified leads

     

Grow customer base

     

Increase your Google ratings

     

Give healthy competition to the bigger players

     

Generate more sales and more sales means more revenue
Whether you are a startup or an established entrepreneur every business needs professional SEO Services. Collaboration with the reputed SEO firm in Sydney will provide you with quick results and greater conversions.
If you are not on the first page of the search engine results, you are missing out on a lot of business. You can't ignore SEO, simply thinking organic results will grow your business. It's not always the case.
Choosing Nifty Marketing for SEO agency Sydney because:
     

You want your website to be found

     

The traffic of your website has reduced drastically, and you have zero clues what to do about it

     

The volume of the incoming leads has gone down

     

You are starting a new website for your new business and you wish to ramp it up quickly.
The company has seasoned SEO professionals with years of working in various segments that includes SEO services like Paid advertising,  Social Media Marketing, Content marketing, etc.
Google continues to change algorithms, making it harder to knock people out of that number one spot. Mainly if they've held it for a long time, it becomes a challenging endeavour for many, so they are turning towards paid search.
Google per month gets 10,000 searches. Let's say if your website is ranking in the first position, you will be getting 2000 visitors from just organic search. This means your website traffic is higher that is almost 20% of traffic is redirected to your website.
It depends on the rank of your website, you get the traffic and leads. It pays to rank high, thus hiring an SEO marketing company can do wonders for your traffic and incoming leads. According to a new study, there have been new findings that Google Organic clicks are shifting to pay.
Leads obtained from inbound activities such as organic leads have a much higher closing or conversion rate than their outbound counterparts.
SEO leads have a 14.6% conversion rate, while outbound leads such as direct mail or print advertising have a 1.7% conversion rate.
Yes, you can.
Google accounts for about 70% of the global search traffic.
To be on the top of Google Search you need to hire efficient, result-oriented SEO experts Sydney services who know to play by the rules of Google.
To get on the top of Google search results instantly, it will need regular basic practices like:
     

Follow Google Webmaster SEO Guidelines

     

Publishing original, engaging, and relevant content

     

A user-friendly page

     

Responsive mobile-friendly website

     

A user-friendly website architecture

Put high-quality natural links to other websites
To know that your SEO is performing, you can see by considering the number of pages you are ranking for. An increase in the number of web pages that you have started ranking means SEO is performing, a decrease on the other hand could mean that there might be indexing issues, penalties, etc. Hiring, Nifty Marketing SEO Sydney services can help rectify the errors and penalties if so.
The SEO efforts can be tracked easily through calculable information like page views, traffic data, and target keyword rankings. Google uses over 200 ranking factors in its algorithm. But it's best to stay focused on a few to start. Establish which metrics are the most critical for your business and track those metrics regularly. Some of them include:
     

Organic traffic

     

Keyword ranking

     

SERP visibility

     

Click-through rate

     

Bounce rate

     

Backlinks

     

Page speed

     

Time spend on the pages

     

Conversion rates