What Is Web Designing?
How to design an SEO-Friendly website? Web designing is the process of creating a website. It involves planning, creating visuals, coding, and testing in order to produce a website that is both functional and appealing to users. Web designers must have an understanding of both design and technical principles in order to create a website that meets the needs of their clients.
It's important for businesses to have an aesthetically pleasing website that accurately represents their brand and meets industry standards. That's where professional web designers come in – they make it easy for businesses of all sizes to create websites that look great and function perfectly.
In addition, WordPress provides a more flexible environment than other popular site-building platforms, allowing you or your designer nearly unlimited creative control.
Updating your website is an essential part of keeping it relevant and effective. As your business grows, so should your website – and our team of web designers can help you make that happen.
What are some key tips for designing an SEO-friendly website?
Designing an SEO-friendly website can be a daunting task. However, with a few key tips in mind, it can be a breeze! Here are some of our favourites: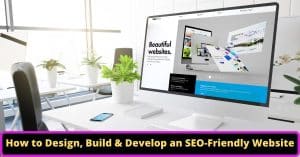 1. Make sure your website is easy to navigate. People should be able to find what they're looking for with ease.
2. Use keywords throughout your website. This will help improve your ranking on search engines.
3. Optimize your images and videos for SEO purposes.
4. Promote your website on social media platforms and other websites frequented by your target audience.
5. Ask an SEO expert for help! They can provide valuable insights and tips that will make a big difference in the success of your website
Importance Of SEO-friendly Website
Website design is one of the most important factors in terms of SEO. A well-designed website will help your ranking on search engines, while a poorly designed website can actually hurt your ranking. That's why it's important to make sure your website is designed by professionals who know how to optimize it for SEO.
Google has recently released a statement saying that their new algorithm update, Penguin 4.0, takes into account website design when determining a site's rank.
In other words, if your site is not designed well, you will lose points with Google and be ranked lower than websites that are better designed. So make sure to hire an experienced web designer who knows how to optimize your site for SEO!
Things To keep in mind when building an SEO-friendly website
When it comes to building an SEO-friendly website design, there are a few key things to keep in mind. Firstly, the time it takes to build your website will depend on the size and complexity of your site. All custom requirements are welcome, but some more complex projects may take slightly longer.
In addition, be sure to use contact information as a call-to-action–people are more likely to get in touch if they can easily find your phone number or email address.
And lastly, link out to other websites that are relevant to the content on your website. This helps Google understand what your site is about, and it also provides valuable information for visitors coming from other sites.
How can I make sure my website is designed in an SEO-friendly way?
There are a few things to consider when designing your website in an SEO-friendly way. The first is making sure that your site is easy to navigate, with clear and concise titles and descriptions for each page.
You should also use keywords throughout your content, but without overloading it so that it sounds unnatural. Additionally, make sure that you're using proper formatting techniques (such as headings and lists) and that all of your images are properly tagged.
Another important factor in website design is mobile-friendliness. With more people using their phones and tablets to browse the web, it's essential that your site looks good and functions well on smaller screens.
The Wix Mobile Editor lets you enhance your site with a dedicated welcome screen, manage and interact with visitors through the Owner app, and much more. The Mobile Editor is available in both desktop and mobile versions, available for Android or iOS devices, respectively.
Website health checks can help you find out if there are any areas of improvement necessary before launching your website to the public. This free online tool checks various aspects of your website design such as broken links, missing images or videos, slow loading times, etc., giving you a detailed report on how to fix them.
Free web hosting offers a chance to test websites in order to avoid costly mistakes during the development stages. And finally, don't forget to check out our checklist for how to make your website SEO-friendly. Wix has been in business since 2003 and has helped millions of people create beautiful and successful websites.
What are some common mistakes people make when designing SEO-friendly websites?
When designing a website, it's important to keep in mind how you want it to be seen by search engines. Unfortunately, many people make common mistakes that can hurt their ranking and visibility. Here are some of the most common errors:
1. Not using keywords correctly: Keywords are still an important part of SEO, and you need to use them throughout your website if you want them to rank well. Incorrectly placing keywords or using them too sparingly will have a negative impact on your ranking.
2. Poor site architecture: Having a confusing or difficult-to-navigate website will cause users to leave before they've had a chance to explore all your content. This can also hurt your ranking since Google takes user experience into account when determining where to place websites in its search results.
3. Not optimizing images: Images play an important role on websites, but if they're not optimized correctly they can slow down your page loading time and negatively affect your SEO efforts. Make sure all images are properly named and use the correct file formats so they load quickly for users.
4. Ignoring mobile users: With more people now browsing the web on their mobile devices, it's essential that your website is designed for optimal mobile viewing. If it's not, you'll lose out on a large chunk of traffic and potential customers.
5. Neglecting social media: Social media is an important part of SEO and can help improve your website's ranking if used correctly. Make sure you're using the right social platforms and that your content is engaging and useful for your audience.
What are some common issues people run into when trying to make their website more SEO-friendly?
There are a few common issues people tend to run into when trying to make their website more SEO-friendly.
– One of the most common is malware, which can seriously damage your site and reputation.
– Another issue is making sure your site is mobile-friendly; the Wix Mobile Editor helps with this.
– Finally, it's important to be aware of how search engines work and what they're looking for in websites.
How do I know if my website is as SEO-friendly as it can be?
There are a few telltale signs that your website could use some improvement in terms of its SEO friendliness. One common indicator is a high bounce rate which is when visitors leave your site after viewing only one page.
This usually means that they were not able to find what they were looking for on your site, or that the content was not engaging enough to keep them around.
Another sign that you may need to work on your SEO is a low number of pages indexed by search engines. If you have a lot of valuable content on your website but it's not being found by potential customers, then you're losing out on business opportunities.
Finally, if you notice that your website isn't ranking as high as it should be for certain keywords, then there's definitely room for improvement in terms of SEO friendliness. Luckily, there are many things you can do to optimize your website and make it more visible to search engines.