What is lead generation?
How to generate and close more leads With email marketing? Lead generation is the process of attracting people to a company without them knowing it. It often comes in the form of coupons, blog posts, live events, and other marketing efforts. This way, you can get potential customers warmed up to business before they even know what you do!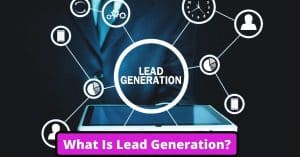 There are many ways to generate leads. You could use an email list, marketing automation software, or social media channels. However, the most important part is making sure that your content is interesting and engaging so that people will want to learn more about your company. Keep in mind that lead generation is not just about getting new customers; it's also about nurturing relationships with current ones. So make sure you provide valuable content that will keep people coming back for more!
Lead Generation Process
The lead generation process is one that is used to identify and qualify potential customers. It begins with the discovery of your business by a visitor, through one of your marketing channels. Once they are on your website, they will see a CTA (call-to-action) that takes them to a landing page. This web page is designed specifically for lead capture, in exchange for an offer from you.
The form on the landing page is divided into three sections: name, email, and contact information. All of this information is needed in order to generate a lead. The landing page must have enough value to the visitor so that it's worth filling out the form completely. When they do so, they become a lead and their information goes into your database.
There's also an offer waiting for them at the end of the process–so they can become profitable faster!
Lead Generation Strategies
Generating leads is essential for any business, whether it's through inbound or outbound strategies. Capturing leads online is a broad topic that depends on the platform you are using. However, if you already have a visitor on your site, then best practices include capturing leads with inbound strategies like email marketing, landing page optimization, and social media campaigns. Once you have captured their information, it's important to attend to them through the sales process so that they become paying customers.
Email marketing can be an effective strategy for generating leads through inbound channels like blogs or newsletters. When someone subscribes to your mailing list or blog feed, they are giving you permission to contact them directly via email about your product or service. This direct connection allows businesses to nurture relationships with potential customers until they're ready to buy.
Another great way to generate leads is by asking for referrals from current customers. People are more likely than ever before to refer their friends and family members to products and services that they love, so make sure you ask! In addition, conducting customer care calls can help identify potential leads who may not be ready to buy just yet but could be interested in your product or service down the road.
The most successful lead generation strategies are online networking, in-person networking, and being a trusted source of information on the internet. When you provide valuable content and make connections with potential customers, they are more likely to trust you enough to buy from you. Keep in mind that it takes time and effort to generate leads this way, but the payoff can be well worth it!
Tips for Lead Generation Campaigns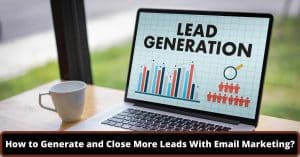 Use the right lead generation tools.
The most successful marketing teams use a formal system to organize and store their leads. This helps them connect with their visitors before they leave their site. Lead generation tools can help you collect information about your visitors before they leave your website.
There are many lead generation resources available to you, and it's easy to create a clickable CTA button in PowerPoint using one of the 50+ templates we've made available for free on our site. You can also use HubSpot's free tool, Lead Flows, which helps you create forms on your website that populate into an existing contact database. Hotjar is a tool that helps you gather feedback from your visitors. It records visitors and tells you where they spend the most time on your site and has built-in heatmaps to help you analyze visitor behaviour.
A form scraping tool collects submissions on your website's existing forms and inputs them to a contact database – HubSpot customers can use HubSpot Forms to create forms that automatically populate into a CMS, while non-HubSpot customers can use a form creation tool like Contact Form 7 or Google Forms, then use HubSpot's free collected forms feature to input data into the database
Create amazing offers for all different stages of the buying cycle.
Most businesses focus on creating offers for the top of the funnel, but it's important to create offers for each phase of the buyer's journey. Offers should be relevant to where the prospect is in their buying process.
For example, if a prospect is just starting their research, you might offer a free consultation or whitepaper. If they are further down the funnel and closer to making a purchase, you might offer a discount or free trial.
It's also important to offer CTAs throughout your site for information-based leads, trials, and demos. This article gives 23 ideas for lead generation content that can help you get started.
Smart CTAs allow you to personalize your marketing messages based on where the user is in their buyer's journey. You can use this data to create personalized CTAs that convert 202% better than a basic call-to-action. Personalized CTAs are more likely to generate leads for your business.
Keep your messaging consistent and deliver on your promise.
When you're running a lead capture campaign, it's important to remember to keep your messaging consistent and deliver on your promise. If people feel like they're being sold to or that they're not getting what they were promised, they'll be less likely to move forward with you. Make sure all aspects of your marketing – from your website design to the content you produce – are in line with what you're promising potential leads.
Another key factor in lead generation is making sure your website is high quality. A well-designed website will help lend credibility to your company and make it more likely for leads to move on to the next stage. Additionally, link popularity (the number and quality of links pointing at your site) is a major ranking factor for Google, so writing high-quality content and submitting it to relevant blogs can help expose your campaign to new audiences.
Finally, don't forget about content marketing! This valuable tool can not only help improve search engine rankings but also create leads and sales.
Link your CTA to a dedicated landing page.
When you're creating a CTA, it's important to remember that the goal is to send visitors to a landing page. A landing page is a web page created specifically for marketing purposes, and it should include all the information someone needs in order to take advantage of an offer.
Your homepage shouldn't contain any CTAs – they should be reserved for dedicated landing pages. When people are interested in what you're offering, they'll want more information, and your homepage may not have everything they need. Sending them to a targeted landing page ensures that they'll get all the info they need without having to look around your website.
In order for leads to sign up, make sure your CTAs are extra alluring! Place them prominently on the landing page and use compelling language that encourages visitors to try out your product or give you their information.
The content on your lead generation pages should be convincing and well-written; after all, you want potential customers to trust you enough to provide their personal data. Make sure the text is divided into easily digestible sub-headings so readers can quickly scan through the content and find what they're looking for. And if you've got images or videos on the page, make sure they're high quality and help to improve the user experience.
Remember that page load time is important, so don't go overboard with multimedia. Use only what's necessary to get your point across, and make sure it doesn't slow down your page.
Finally, always include a relevant CTA on the page where it can be seen by visitors. Place it in an easily visible location so people know what you want them to do.
Get your sales team involved.
Marketing and sales teams need to be aligned on definitions and processes before starting a lead generation campaign. Marketing needs to keep up with changes in their relationship with sales over time, so they can accurately define leads throughout development. If the sales team is not receiving feedback from the marketing team, they will assume that leads are being generated.
A lead generation campaign and its data must be analyzed for success to determine if it's still feasible to continue running it. Sales feedback can help marketing adjust future lead-generation campaigns. Marketing can send weekly or monthly sales reports to marketing, who will then adjust their lead generating leads strategies accordingly
Use social media strategically.
Sharing posts with links to landing pages is the best way to convert social media followers into leads. Start by adding links directly within your Facebook, Twitter, LinkedIn, and other social media posts.
It's a good idea to do a lead generation analysis of your blog to figure out which posts generate the most leads. Once you know what content is working well, you can focus more on promoting it through social media channels.
Contests are fun and engaging for followers, so they're a great way to learn more about them. Social media contests are a great way to grow your email list. They allow you to collect valuable information from participants while also building excitement around your brand or product.
This article covers everything from creating a social media contest to picking the winner, all the way to analyzing your results. If you're looking for ways to increase engagement and leads from your social media campaigns, then consider running a contest!
Remain flexible and constantly iterate.
In order to be successful with lead generation campaigns, it's important to remain flexible and constantly iterate. Test different ad channels to see what works best for you. And most importantly, use A/B split testing to optimize your campaigns and maximize results.