What is local SEO?
How to optimize my website to local SEO? Local SEO is the process of optimizing a website for local search results. This includes optimizing the website content, as well as the business listing information, in order to rank higher in local search results.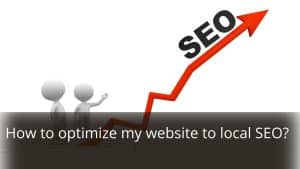 Local SEO refers to the process of 'optimizing' your online presence to attract more business from relevant local searches.
Local SEO can be used by businesses to position their products and services to local prospects and customers who are searching for them.
Bing's "Local results" for "coffee shop in Sheffield" is an example of how search engines use signals such as local content, social profile pages, links, and citations to provide the most relevant local results to the user.
How to optimize my website for local SEO?
There are a few key ways to optimize your website for local SEO:
– Make sure your site is correctly listed with Google My Business and other local business directories.
– Use local keyword phrases in your website content and titles.
– Include your address and other local business information on your website.
– Encourage customers to leave positive reviews of your business on local review sites.
Optimize URLs, title tags, headers, meta descriptions, and content.
Image optimization involves using keywords in the file name, as well as adding helpful alt text and a description.
Make sure your website is mobile responsive to look good on all screen sizes.
Make sure your website is optimized for local SEO
Use keyword-rich titles and descriptions
Place images strategically
Create a well-written content strategy
Add keywords to your site's description
Every new blog post is an opportunity to get found in the search engine results pages (SERPs).
To optimize content for local SEO, use high-volume keywords in the URL, title, header, meta description, and body.
If you're having trouble coming up with geo-targeted content, consider highlighting customer success stories and case studies.
Avoid duplicating content across multiple location pages.
Create media and content about your business
Local SEO is the practice of improving your website's ranking in Google search results for local keywords.
There are a number of ways to optimize your website for local SEO, including creating localized content, optimizing titles and meta descriptions, and using location-based tags.
Local SEO can be very effective in driving traffic and conversions to your website.
Begin by identifying the specific keywords that are important to your business and target them with appropriate optimization techniques.
Be sure to test different strategies and continue tweaking your approach until you achieve the desired results.
Increase the number of citations for your business
To optimize a website for local SEO, first identify the target keywords.
Next, add those keywords to the title, meta description, and other relevant parts of the website.
Make sure all links to your website are from genuine business websites.
Monitor your website's ranking for targeted keywords to determine whether the optimization is effective.
Use social media to promote your business
Google considers social media posts more important now than ever before
Sprout Social helps you understand and reach your audience, engage your community, and measure performance with the only all-in-one social media management platform
Try Sprout for free to get started
Google algorithm updates & local SEO: 6 top tips from experts [webinar]
Google removed 7 million fake business profiles in 2021
4 quick tips to boost your google business profile visibility
6 types of duplicate content in local SEO: do they help or hurt?
Local SEO guide for eCommerce & online ordering
7 local SEO tips for franchises & their locations
To optimize a website for local SEO, it is important to understand the three types of search engine optimization (SEO) – on-page, off-page, and link building.
On-page SEO includes optimizing your website content for title tags, meta descriptions, and keyword placement.
Off-page SEO includes using effective link-building techniques such as guest blogging and social bookmarking.
Link building involves acquiring links from high-quality websites in relevant niches.
Factors that influence local SEO ranking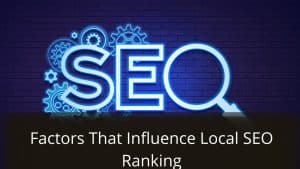 Quality content
Keyword usage
Technical SEO
Off-site factors such as link building and ongoing content production
The quality and quantity of your website content
Local SEO ranking is heavily influenced by content quality.
Local businesses should focus on writing for local blogs and publications that have the potential to send referral traffic to their website.
Guest blogging can still be a useful way to promote your business, but don't do it solely for the links it generates.
Factors that influence local SEO ranking include:
-Domain authority
-Page authority
-Inbound links
Domain authority is the most important factor in determining local SEO ranking. It is determined by how many pages on your website are indexed by Google and other search engines. This can be increased through high-quality content, aggressive link building, and the creation of an overall well-designed website. Page authority is also important in determining local SEO ranking because it reflects the importance of your page within the search engine results page (SERP). Pages with higher page authority will appear higher in SERP rankings than pages with lower Page Authority. In order to increase your domain authority, you'll need to create high-quality content that is relevant to your target audience and promote it through effective link-building efforts. Finally, gaining positive reviews from potential customers can also help increase domain and Page Authority.
The amount of Inbound Links a site has played a major role in determining local SEO ranking. Sites with more links tend to rank higher than sites with fewer Links due to the "link juice" they generate when linking out from their websites."
The number and quality of your site's backlinks
It's vital to get links to boost your local SEO, but their quality is important.
Tips on getting high-quality backlinks include: creating high-quality content on your site, guest blogging on reputable sites with high domain authority, engaging with local influencers on social media or by email to get them to link back to you, and making sure your phone number is clickable when viewed on mobile devices.
Your site's Google My Business Profile
The business must have a Google Business Profile
The profile must be set up and optimized
Regular updates to the profile are necessary
Interaction with customers through GBP Q&A and posts is important
Requesting Google reviews is also recommended
Posts
Using Google Posts to share information, announcements, and promotional offers can improve local SEO ranking.
Address and Logo
Including an address, logo, and phone number can help customers find the business more easily.
Customer Service
Responding to customer questions is a quick way to build relationships with customers and share valuable information.
How to improve local SEO ranking?
Answer:
There are a variety of ways to improve your local SEO ranking. Some of the most effective methods include:
– Optimizing your website for local search
– Claiming and optimizing your Google My Business listing
– Creating and optimizing local citations
– Creating and optimizing local content
– Building links from local websites
SEOs improve website ranking by testing on different criteria like UX, Mobile responsiveness, Website content, Technical errors, On-page changes, and Backlink quality.
Implementation of the strategy is done by SEOs throughout the campaign.
Frequent monitoring is also done to validate the SEO strategy.
An SEO consultant can help you focus your content marketing strategy and target the right audience.
A keyword research report will provide valuable information about what keywords are most important to your business.
If you run Google AdWords campaigns, use the Keyword Planner Tool to see if keywords are worth targeting with ads.